Oxford University's vice-chancellor says comments were 'misconstrued'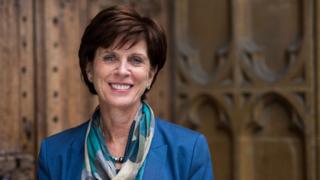 Oxford University's vice-chancellor has distanced herself from comments she made at an education summit urging students to engage with professors who had expressed anti-homosexual views.
Louise Richardson said her words had been "misconstrued" in an email sent to LGBTQ+ university staff and alumni.
On Monday she claimed to have had "many conversations" with students about staff expressing anti-homosexual views.
But in the email she referred to a single incident at another university.
'Lack of compassion'
Hundreds of Oxford University academics, students and alumni have signed an open letter condemning her earlier comments and calling for an apology.
Among the signatories were the crime author Val Mcdermid and the director of the Royal Society of Literature Tim Robertson.
Ms Mcdermid said: "[Louise Richardson's comments] demonstrate a fundamental lack of comprehension and compassion."
She added that it should not be up to students "to tackle senior members of the university whose views actively undermine the position of those they are supposed to be teaching".
'Record of speaking out'
In her email Prof Richardson wrote: "I am very sorry that the reporting of my remarks has led you to doubt my or the university's commitment to opposing discrimination of any kind.
"My comments have been completely misconstrued.
"The particular case I had in mind was one in another university in which students opposed the appointment of a professor because they believed he held views on homosexuality that they opposed.
"Had he expressed those views I and many others would have objected."
The open letter, which has had more than 2,200 signatories, was started by former student union vice president Eden Bailey and history doctoral student Jack Doyle.
Mr Doyle said: "I'm not interested in entertaining the idea that my existence is a debate, or that an academic setting dignifies homophobia."
In a public statement Prof Richardson said: "I hope that a career-long track record of speaking out against discrimination in all its forms helps answer the concerns being expressed."