HMP Bullingdon: Short-staffed prison 'not safe enough'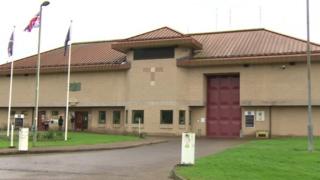 An Oxfordshire prison is "not safe enough" and urgently needs more staff, the prisons watchdog has warned.
The HM Inspectorate of Prisons report said HMP Bullingdon had a drug and gang problem, and high levels of violence.
However, Peter Clarke, chief inspector of prisons, said many at the jail were "doing their best" to make things better.
HMP Bullingdon is a resettlement prison near Bicester, which houses 1,109 adult and young adult prisoners.
The findings follow unannounced inspections in April and May.
The inspectors found:
"Severe, ongoing" staff shortages
About a third of prisoners "felt unsafe"
Drugs, mobile phones and weapons were regularly discovered
Violence a "key problem"
Since the last inspection three prisoners had taken their own lives, and there was a significant increase in self-harm - support to those at risk was described as "weak"
Use of force "much increased"
During the working day 45% of prisoners were locked in their cells
The last report in 2015 also referred to significant staff shortages at the 25-year-old prison.
Mr Clarke said: "The key message from this inspection was the urgent need for increased staffing.
"It was clear to us that this was a strategic problem that was undermining everything the prison was trying to do.
"Despite this... many - not least the governor - were doing their best to effect improvement and were proving capable in doing so.
"This suggested that there was cause for continued optimism."
Michael Spurr, chief executive of HM Prison & Probation Service, said: "The governor and his team are committed to improving outcomes for prisoners at HMP Bullingdon.
"The prison does need more staff and we are providing the governor with central support to accelerate recruitment of permanent staff."
He added that in the meantime additional prison officers would be provided from other establishments.