Ellis Downes drowning: Officers showed 'lack of professionalism'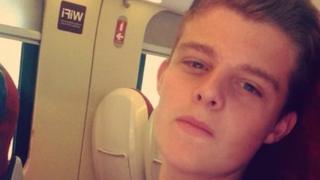 Three police officers will face misconduct proceedings over their dealings with the family of a teenager who drowned in a river.
The family of Ellis Downes said they had to hire a boat and find private divers to recover his body after being left without police help.
Ellis, 16, died after getting into difficulties in the River Thames.
The Independent Police Complaints Commission [IPCC] said the officers "have a case to answer for misconduct".
Thames Valley Police has already apologised for its conduct after Ellis's death, at Culham, Oxfordshire, in May 2016.
The IPCC said the case related to the officers' "incivility and lack of professionalism... during their dealings with Ellis's family in the immediate aftermath of his disappearance".
'Profoundly sorry'
Ellis's father Darren said his family waited "hours and hours" without contact from the police after his son vanished while swimming, and his daughter Alex eventually had to contact private diving companies.
Mr Downes said the private dive team was then barred from entering the water, which delayed the search by several hours. Police relented when he threatened to "jump in" himself.
The IPCC said the delay in allowing the civilian divers into the river was due to a misunderstanding as to whether they had authorisation.
The watchdog's associate commissioner Guido Liguori said: "We identified changes that could be made to improve how civilian dive teams are used."
Search team axed
In a Facebook video message, Assistant Chief Constable Nikki Ross said she was "profoundly sorry" for the "level of support, the level of compassion, the lack of information and communication".
The force axed its specialist search and recovery team as a result of budget cuts in 2014, but said a private dive company had now been contracted.
It added it had reviewed its policies "in particular the timing and the deployment of trained family liaison officers, because in this case we recognise that it should have been done earlier".
The watchdog will publish an investigation report following the misconduct meetings.