NHS trials new mobile app to treat paranoia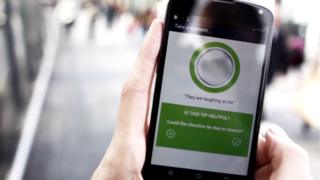 People with paranoia are to be offered a new NHS app which encourages them to slow down their thinking.
Users can input information about distressing thoughts and use a tool to convey the intensity of the feeling.
The app, which has been called "the first of its kind", then encourages the user to slow down by asking a series of questions.
Oxford Health NHS Foundation Trust will trial it on patients in Oxfordshire and Berkshire.
'Reassuring'
It said research has shown fast-thinking habits contribute to paranoia, one of the most common severe mental health problems.
The study will involve 360 people, some of whom will be given the app, while the others will have their usual care, so the approaches can be compared.
The app builds on three decades of research by the University of Oxford and Kings College London.
Dr Mar Rus-Calafell, from Oxford's department of psychiatry, said: "It encourages people to come up with their own reassuring alternatives and keeps a record of what has been helpful in times of stress.
"So far the feedback has been very positive, people say having something they can use wherever they are is really what they need."
The trail is being funded by the Medical Research Council and National Institute for Health Research Clinical Research Network.