Appeal after photo stolen from WW2 soldier's wheelchair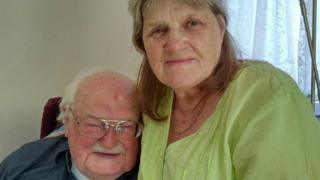 The wife of a World War Two veteran is appealing for help after a purse with an "irreplaceable" photo was stolen from his wheelchair.
Catherine Scott-Yeomans, from Headington, Oxford, described the act of stealing from her husband Dennis as "the lowest of the low".
She has put up posters offering a reward to get the picture of her late mother back.
"It's destroying my life, not having that memory," she said.
Mrs Scott-Yeomans, 66, and Mr Yeomans, 90, were in Summertown's Marks & Spencer on Monday when the purse was snatched from a bag on the back of the wheelchair while they were distracted.
She said: "To steal from my husband, who is seriously ill with cancer, and myself, was terrible.
"I don't feel safe going out in Oxford."
She added: "I've always had her photograph. I miss it so much."
Mr Yeomans, who was in The Royal Army Service Corps, said: "I couldn't believe someone would steal from someone in a wheelchair.
"Older people are targeted... many of those ill-treated are people who served king and country."
Store manager Andrew Thomas said staff helped the couple after the theft, and he appealed to the public to return the purse if found.