Thames Valley Police seize £560k cash in drugs raid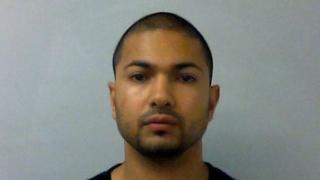 The leader of a cocaine-dealing gang was behind a police force's largest ever cash seizure of £560,000.
Khalad Uddin, 35, of Little Brewery Street, Oxford, was jailed for 16 years at Birmingham Crown Court.
Thames Valley Police said he lived a "lavish lifestyle" and was the gang's "key player and national co-ordinator".
He was jailed for conspiracy to deal cocaine, money laundering and firearms offences.
A further 13 members of the gang have also been given jail terms for a conspiracy to supply cocaine.
Police said Uddin co-ordinated exchanges of drugs between Albanian suppliers and customers with links to the West Midlands, south west of England and Oxfordshire.
During the operation, officers seized more than 10kg of cocaine, a 10-tonne hydraulic press, anti-surveillance equipment and high-value jewellery. They also found 70 pairs of designer jeans at Uddin's properties.
The gang used cars with concealed compartments in order to transport the drugs for sale around the country.
Det Ch Insp Bruce Riddell said: "Uddin was one of the key players co-ordinating exchanges and facilitating the movement of drugs from the suppliers to customers.
"From this he was living a lavish lifestyle, spending over £62,000 on renting fast cars, and expensive properties in Summertown [in Oxford].
"Uddin also arranged the purchase of two handguns, which were found in a shoebox being transported in a VW people carrier.
"Other members of the conspiracy took luxury holidays, had access to high-performance sports cars and had amassed large amounts of cash, and thought they were above the law."