Runaway lorry carrying digger crashes into house in Banbury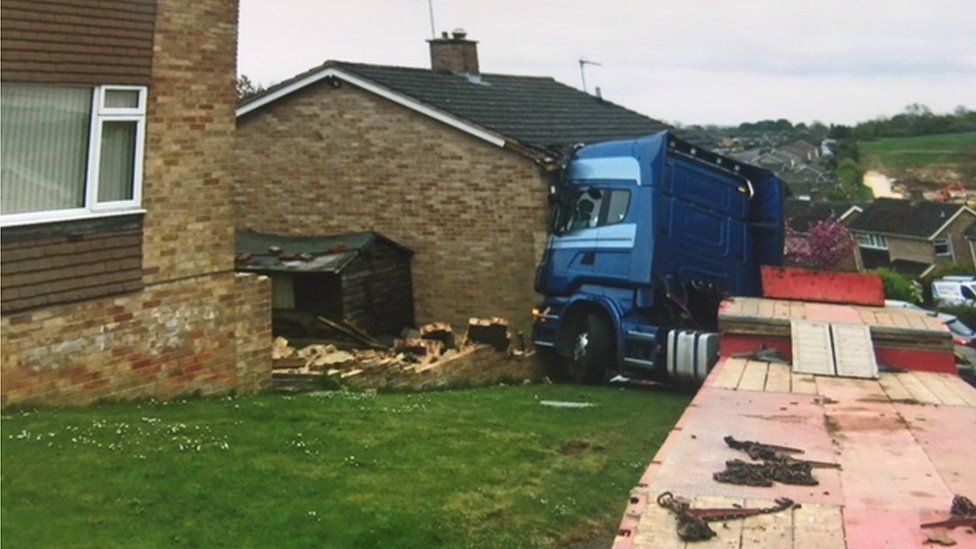 A man has described pulling his wife out of the way of a runaway lorry that crashed into his home.
The flatbed truck was carrying a digger when it rolled down a hill in Balmoral Avenue, Banbury, Oxfordshire, on Friday afternoon.
Paul Nash said he was going out when his wife saw the lorry approaching with the driver running alongside.
He said the HGV hit the corner of his home and added: "It could have been a lot, lot worse."
Mr Nash said: "My wife was sat in the car, I was locking the door, I turned round and my wife jumped out of the car and said 'there's a lorry coming down the hill with nobody in it'.
"I grabbed my wife and pulled her out of the way, and basically we just ran around the corner, then all of a sudden it stopped.
"We came back around and saw that the lorry was resting against our house."
He added: "Afterwards you think, what if it had kept coming, and we were sat in the car and couldn't get out?
"It's a steep hill, if it had gone straight down the hill I don't know how much damage it would've done. It's a 20-tonne lorry with a 20-tonne digger on the back."
The lorry's owner, Anglia Crane, was contacted for a comment. Thames Valley Police said no-one was injured in the accident and no arrests were made.
Related Internet Links
The BBC is not responsible for the content of external sites.