Oxford fatal crash teacher Stephen Piper 'three times over limit'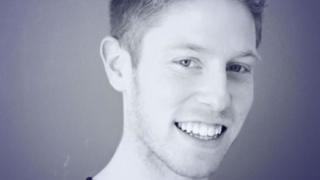 A 28-year-old dance and drama teacher died after falling asleep intoxicated at the wheel of his car and driving into a bus shelter at more than 50mph, an inquest has heard.
Stephen Piper was nearly three times over the limit when he got into his car at an Oxford park and ride an 22 October.
Earlier he had left friends after celebrating a promotion to take a night bus home but had got off minutes later.
The coroner said it was a "sad case".
Mr Piper, a City of Oxford College faculty member, had been celebrating at a colleagues' leaving do on a Friday night, before he got on to a night bus to Carterton at 00:30 GMT.
He then got off the bus near Osney, and more than two hours later appeared on CCTV getting into his car at Seacourt Park and Ride.
Collision investigator David Watson said onboard computer data showed the Winchester University graduate gradually accelerated to between 52.5mph and 60mph before hitting a bus shelter on the right-hand side of the road at 03:23 GMT.
He said: "The data suggests that Stephen was asleep at the time.
"There was no evidence of braking.
"The collision happened one mile into a 15-mile journey back to [his home in] Carterton."
Oxfordshire coroner Darren Salter recorded the death as a road traffic collision, and said: "This is a very sad case; the loss of Stephen in these circumstances at such a young age."
In a written statement, Mr Piper's brother Michael said: "I think his life ended badly but he gave so much to everybody."