Female WW2 flyers honoured in RAF Brize Norton ceremony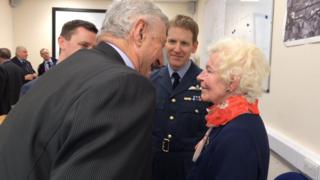 Two women who flew planes during World War Two have been honoured at an Oxfordshire RAF base.
Molly Rose and Mary Ellis flew from factories to RAF airstrips for the Air Transport Auxiliary (ATA).
Mrs Rose, from Bampton, Oxfordshire, died last year. Mary Ellis, who grew up in nearby Brize Norton, is 100.
Speaking at RAF Brize Norton, where a plaque was unveiled, she called it a "very responsible job because we dared not break the airplanes".
Mrs Rose's son Graham, who also attended the ceremony, said he was very proud of his mother.
"I think she will be smiling down," he said.
About 170 women were part of the ATA. The plaque says the two women helped provide a "vital link to the aircraft industry without which frontline squadrons could not have operated".
Mrs Ellis said: "We were kept very busy and would fly every day for a fortnight, and then we were allowed two days off... but it was so exciting and exhilarating.
"We never knew when we went to work in the morning what we were going to fly, and where we were going to fly to."
She added: "I was flying over the New Forest one day and suddenly the engine stopped.
"I circled round and suddenly saw a small place in the forest... practice made perfect and I did land without an engine."
Gp Capt Tim Jones, station commander, said: "A lot of men didn't want to see women flying at all and here were these ladies who were behind the scenes, helping keep the war effort going.
"When you meet people like Mary Ellis you can see in her eyes she has an inner steel that you can imagine came in very handy back then."