Oxford flats explosion: Unstable nearby homes 'may be demolished'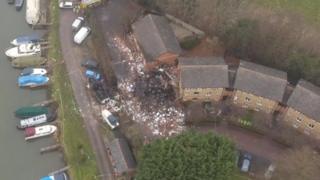 Several homes are likely to be demolished following an explosion in Oxford which may have killed a man.
Three flats in Gibbs Crescent collapsed following the blast on Tuesday.
Housing provider A2Dominion said five more homes may have to be demolished "due to the extent of the damage".
Guido Schuette is believed to have died in the explosion. The 48-year-old has been missing since the blast and human remains have since been found at the site.
A spokeswoman for A2Dominion said it was meeting with affected residents on Monday "to discuss permanent alternative accommodation".
Gibbs Crescent will remain closed until further notice.