Chemical incident partially closes Nuffield Orthopaedic Centre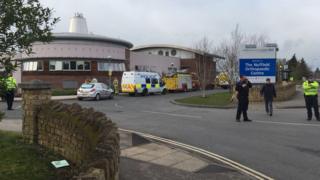 Part of a hospital in Oxford had to be closed when a chlorine-type gas was accidentally released by staff.
It happened at the Nuffield Orthopaedic Centre on Windmill Road in Headington, where chemicals were being mixed for the swimming pool.
The gas was released as a result, South Central Ambulance Service said.
Two staff members inhaled some of the substance, which caused runny eye and sore throat symptoms, and were treated at the scene.
Patients were turned away from the main entrance of the hospital following the incident at about 13:00 GMT and an administration block had to be closed.
They were redirected to use the rear entrance. The front access has since reopened.
Oxfordshire Fire and Rescue Service sent hazardous chemicals specialists to the hospital to make the area safe.