Man taken ill after handling 'fatal' toxic seeds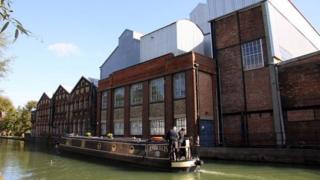 A man has been taken to hospital after he handled toxic sub-tropical seeds in Oxford.
He started feeling dizzy after touching Abrus Precatorius seeds, known as crab's eye, at the former Osney Power Station building on Arthur Street.
It is believed the building is now used as a store for Oxford University's museums.
The Pitt Rivers Museum's website says some of its exhibits, such as an African face mask, contain the seeds.
The man, and a female colleague, were decontaminated at the scene via a special shower.
A road closure was temporarily in place just after midday when the incident happened.
David Gallagher from South Central Ambulance Service said a rapid response vehicle and ambulance were sent to the scene.
Public Health England was also informed, but as the poison is not airborne it is believed to be no risk to the wider public.
Abrus Precatorius
The poisonous seeds are found inside beads that are sometimes used in jewellery and in percussion instruments.
The beads themselves are safe, but piercing them can expose the dangerous seeds inside.
They contain the potentially fatal toxin abrin, which has been described as chemically similar to ricin, and is a controlled substance under the Terrorism Act.
The plant is native to India and grows in tropical and subtropical areas of the world where it has been introduced.
Other names include jequirity, crab's eye, rosary pea, John Crow bead, precatory bean, Indian liquorice, akar saga, giddee giddee and jumbie bead.