Three sentenced for Headington Lloyds Bank robbery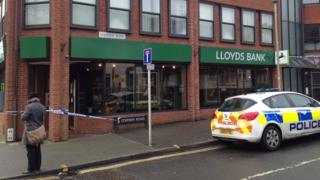 Two men have been jailed and a teenager sent to a young offenders' institution for stealing thousands of pounds in an armed bank robbery in Oxford.
Ben Matthews, 30, Tyron Smith, 27, and a 17-year-old who cannot be named admitted robbing Lloyds Bank in Headington on 23 January last year.
Thames Valley Police said they covered their faces, wore blue boiler suits, and threatened staff.
The robbers were carrying an imitation handgun and stole £4,087.01 in cash.
Smith, of no fixed address, also pleaded guilty to possessing heroin and cocaine with intent to supply and was jailed for seven years and eight months.
Matthews, of Valencia Road, Oxford, was jailed for six years and nine months.
The teenager was sentenced to three years detention in a young offenders' institution.