Oxfordshire has 1,205 faulty lights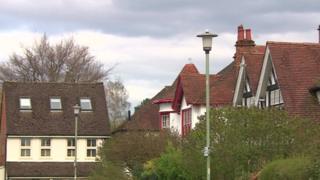 At least 1,205 lights across Oxfordshire's road network have been reported as faulty.
However, on the website fixmystreet.com, Oxfordshire recorded the largest number of broken lights reported at 1,643.
The county council said that of its 66,000 lights (98.2%) on its network were "working fine".
It comes after a resident was told the council "didn't have a contractor in place" to complete normal maintenance.
'Pretty depressing'
Fixmystreet.com is a website where residents can report potholes, faulty street lights and fly tipping.
A council spokesman said the reports on the website were "not kept up to date", and that the county had a larger network of lights than many other areas.
Wantage MP Ed Vaizey got involved in one long-running row.
He said: "It is pretty depressing that the council system doesn't seem to be working and you've got to get in contact with your MP to get it fixed.
"It's totally unacceptable for a person to go two months without their street lamps working."
Last year the council announced it would only repair street light emergencies - potentially endangering life - after SSE terminated its contract to service the 66,000-strong network.
The council has said interim contractor Amey has been maintaining the network since June, but a resident who complained about three broken lights in Faringdon was told a "contractor was not in place" to complete non-emergency work.
David Cook said his partner made the council aware of the issue in mid-December, but no action had been taken until he contacted Mr Vaizey.
The 46-year-old said: "Basically they're waiting for someone to have an injury, to break their leg, before fixing the light."
A council spokesman said: "Our interim contractor is working hard to repair unfixed streetlights and any other lighting with faults.
"We welcome the public getting in touch with us to report streetlights in need of repair."