Horton Hospital changes referred to health secretary Jeremy Hunt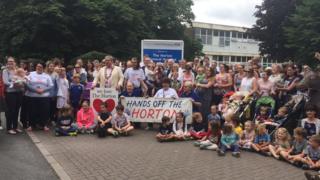 Possible changes to a Oxfordshire hospital's maternity unit are to be referred to the health secretary.
Health bosses are considering making a temporary downgrade of maternity services at Banbury's Horton Hospital permanent.
However, the Oxfordshire Joint Health Overview and Scrutiny Committee decided the proposal was a "significant" change and should be reviewed by Jeremy Hunt.
The hospital trust said it would liaise with the committee on its next steps.
The committee decided that a move to close Deer Park Medical Centre in West Oxfordshire should be referred as well.
On Wednesday a high court judge rejected an application for a judicial review into the Deer Park Medical Centre closure.
The maternity unit at Horton General Hospital was re-designated as midwifery-led on 3 October 2016 on safety grounds due to problems recruiting obstetric doctors.
Keith Strangwood, from Keep The Horton General Group, said: "This is the third time we have tried to get it referred... we have been bombarding the county council and the scrutiny committee with detailed information."
Yvonne De Burgo, a 71-year-old Deer Park Medical Centre patient, said: "There is going to be such a knock-on effect for patients at all of Witney's surgeries if they shut down Deer Park.
"It is the best surgery I have ever attended in my life and the quality of care is fantastic."