Challenge over Witney medical centre closure rejected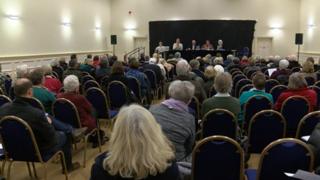 A bid to stop the closure of a medical centre has been rejected by a High Court judge.
In September, the Oxfordshire Clinical Commissioning Group (OCCG) said a deal over the Deer Park Medical Centre could not be reached with Virgin Care.
One of its patients had applied for a judicial review into the decision to close the centre, claiming the OCCG did not consult patients properly.
However, Yvonne De Burgo's application was rejected on Wednesday.
The practice, which has about 4,300 patients, is due to close on 24 March.
'Fight isn't over'
OCCG had previously said it could not agree a new deal for the practice - even though the value was "offered at a significantly higher price than that paid to other practices".
Virgin Care said it was disappointed that its contract would not be renewed.
OCCG has now started the process of dispersing patients who are registered at the centre.
It said: "The priority for OCCG and Virgin Care is now to ensure that all patients are able to register with a new GP in a safe and efficient way by the end of March 2017."
Ms De Burgo, 71, said: "We have other avenues to go down, the fight isn't over, we are not giving up... we are carrying on to the bitter end."
The BBC has asked the OCCG for a response to Ms De Burgo's claim that it did not consult patients properly before announcing the closure.