Sixteen men detained in Bicester lorry raid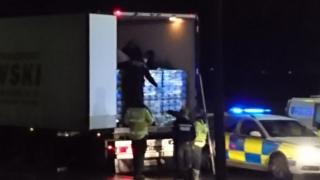 Sixteen men thought to be from Iran have been detained after being found in the back of a lorry.
One of the men phoned police at 18:30 GMT on Tuesday to say "he and a number of other men were in the back of a lorry" while it was travelling on the A41 near Bicester, Oxfordshire.
The Polish lorry driver was arrested but has been released without charge.
South Central Ambulance Service attended but said no-one required hospital treatment.
In September 2016 15 men and a family of four were detained as suspected illegal immigrants in the back of a lorry on the same road.
A Home Office spokesman said: "[The men] were all arrested for suspected immigration offences and will be interviewed by immigration officials.
"Where someone has no right to remain in the UK, we will take action to remove them."