'Contaminated' drugs may have caused three deaths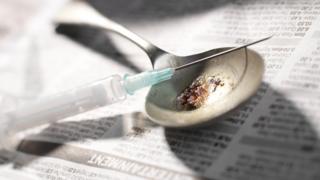 Three people are suspected to have died after taking contaminated heroin and crack cocaine in Oxfordshire.
Warning notices were issued to the county's health and drug services after reports of two deaths in four days in the Witney and Chipping Norton areas.
A further death has now been confirmed by Thames Valley Police.
The Oxfordshire Public Health Drug and Alcohol Team, which issued the notices, has provided advice to users.
'Heightened vigilance'
Andy Symons, a manager at drug service Turning Point in Oxford, said drug-related deaths were "very, very unusual" in those parts of Oxfordshire.
He said: "Our message is really to be very careful if you are buying off someone you don't know."
The warning notice advises agencies to use "heightened vigilance" because of "potentially contaminated crack cocaine and heroin".
Anyone's Child is a drug law reform campaign co-founded by Oxford mother Anne-Marie Cockburn whose daughter died after taking ecstasy.
Campaign coordinator Jane Slater said: "It's high time that we seriously explore alternatives in order to stop needless deaths like these, including heroin prescribing and legal regulation of the heroin trade. "