Wantage baby bath death mum sentence increases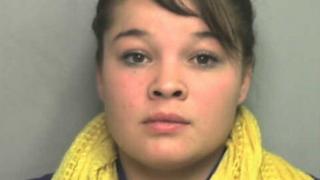 A mother who allowed her 14-month-old daughter to drown in the bath has had her jail sentence increased.
Jasmine Gregory, 24, had been drinking cider when she left Robyn Andrews-English in an adult-sized bath at their home near Wantage, Oxfordshire.
She was sentenced to three years in prison at Oxford Crown Court in November, but her sentence was extended by 18 months after she appealed.
On Tuesday, judges said Gregory's initial sentence was "unduly lenient".
'Lacked powerful mitigation'
Robyn was left unattended in the bath in Kents Row, Grove, on 7 August 2014 for 10 minutes.
She was rushed to hospital after she was found unresponsive but was later declared dead.
At the Court of Appeal, Lady Justice Rafferty, sitting with Mrs Justice Elisabeth Laing and Mr Justice Fraser, agreed to increase her sentence for manslaughter to four-and-a-half years claiming she lacked "powerful mitigation".
Gregory, who appeared by video link, had to stop her involvement when she became distressed.
In January, a review into the death concluded it could not have been prevented by authorities.