Police hunt for potential Cropredy 'crash victim'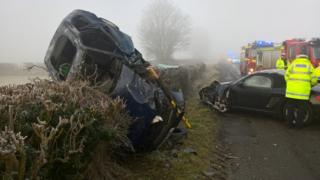 A man with potentially serious injuries is thought to have left the scene of a car crash, sparking a police search for him.
Firefighters removed one of the vehicles from a hedgerow after the two-car crash in Cropredy, Oxfordshire, on Tuesday at about 08:15 GMT.
One victim was airlifted to hospital after the crash, which is being investigated by Thames Valley Police.
The man who left the scene was thought to be wearing a high visibility jacket.
'Foggy conditions'
Incident commander Steve Anderson said both vehicles were "badly damaged" and removing the car from the hedge was "extremely challenging".
He added: "The collision occurred on a rural road, in frosty and foggy conditions, the cause is not known at the time, but is being investigated by Thames Valley Police.
No-one has been arrested over the crash, but police fear for the welfare of the potentially wounded man who left the scene.
Sgt Mark Scully said: "I would particularly appeal to anyone in the area of Cropredy and near the A423 to contact police if you see anyone matching the description of the man."