Oxfordshire schools funding cut 'horrendous'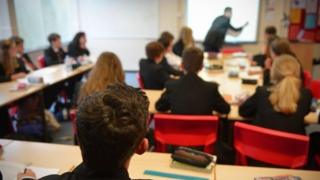 A new funding formula could force some schools in Oxfordshire to move to a four-day week, critics have warned.
The government is introducing a new settlement for schools from 2018-19, which it says will resolve "unfair" and "inconsistent" funding levels.
Overall spending in the county will increase by 1.5%; 130 schools will lose out and 133 are set to receive more money.
But some say the formula would be "horrendous" for the county.
The Oxfordshire Secondary Schools Headteachers' Association has written to the county's MPs asking for a meeting to discuss its concerns.
Convenor Catherine Darnton said schools were already "struggling to make ends meet" and the only options remaining were cuts to teaching hours or bigger classes.
'Opaque and outdated'
She added: "We are absolutely at the bottom now and there is nowhere else to cut without seriously damaging provision.
"So reasonable-sized classes, the 25-hour curriculum offer, those are the sort of things that are now under threat because things are so tight."
The National Audit Office said nationwide schools faced cuts of £3bn under the new formula.
Carole Thomson, chair of the Oxfordshire Governors' Association, said: "If they continue to underfund our schools and pretend that they are protecting our budgets, which is what they're currently doing, absolutely [a four-day week is] possible further down the line."
She called the changes "horrendous".
"We are facing an unsustainable cut to our budgets and I'm not sure what can give but something has to," she added.
A government spokesman said: "Under the proposed national schools funding formula, more than half of England's schools will receive a cash boost in 2018-19.
"This will help to create a system that funds schools according to the needs of their pupils rather than their postcode.
"The government has protected the core schools budget in real terms since 2010, but the system for distributing that funding across the country is unfair, opaque and outdated."