Dundee boy's balloon flies 370 miles to Banbury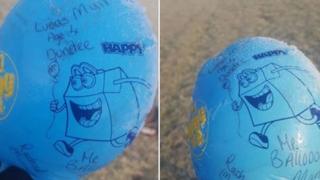 A boy's balloon released in Dundee as part of a telescope experiment has been found 370 miles (595km) away.
Lucas Muir, aged four, had signed the McDonald's-branded balloon with his name, age and hometown.
A week later it was found in Banbury, north Oxfordshire. It is now being sent back to Lucas.
Bryan Tomlin, who found the balloon on Sunday morning, put a picture of it on Facebook which was shared 6,000 times.
Mr Tomlin said: "I noticed the writing on there with the little kid's name on it and thought I'll put it on Facebook as it would be nice to see if we could reunite him with it.
"I did that and it absolutely snowballed from there, it went absolutely mad".
Lucas released the balloon to see if he could see it with his telescope
His father Andy Muir said: "I saw the picture on Facebook and there was Lucas' name, his age and his hometown.
"He's only four years old so he doesn't realise what an impact it has had."
He added that he was amazed the McDonald's balloon had travelled so far.
He said: "It's quite a thing for their balloon to be a world traveller."