Henley pensioner rescued after driving car into River Thames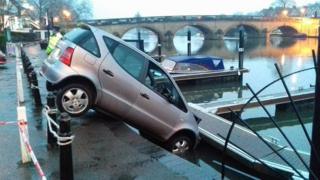 A woman in her 80s has been rescued unhurt after crashing her car into a pontoon on the River Thames.
Emergency services were called at about 15:00 GMT to Thameside in Henley.
They helped the woman from Henley out of the vehicle 10 minutes after arriving at the scene and the car was recovered two hours later.
She was not injured and did not attend hospital but was described as "a bit shocked" by a passerby.
Tom Carter, who was walking his dog with friends when he saw the car roll into the pontoon, said: "She was shaken but ok.
"The car was in one of the parking bays and rolled off, so its front had landed on the pontoon and got wedged at a 45 degree angle."