Banbury's Horton General Hospital could face more changes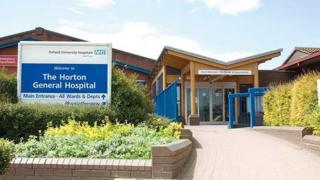 A report has confirmed further changes to an Oxfordshire hospital that has already seen its maternity unit downgraded.
The changes to Banbury's Horton General Hospital are in a draft version of a Sustainability and Transformation Plan due to be published next year.
It considers options for tackling a predicted funding gap in the county's NHS of £200m by 2020-21.
The Horton's emergency care, obstetrics and paediatrics are being looked at.
In August the hospital was redesignated as a midwife-led unit due to a shortage of doctors.
Also under review are "new roles" for the county's nine community hospitals, and bed closures at Oxford University Hospitals NHS Foundation Trust.
Previously Oxfordshire's Green Party claimed the community hospitals could be replaced by four hubs, including one at the John Radcliffe Hospital in Oxford.
But the county's clinical commissioning group said it was too soon to give any more details because "the options for these services are still being worked on".
In a statement it said a formal consultation on some of the proposals is expected to begin in January.
It added: "This will be the first phase and a further consultation will take place at a later stage.
"No decisions have been made or will be made on changing and developing services until all the views and concerns gathered through the consultation are carefully considered and taken into account."
The plan also covers West Berkshire and Buckinghamshire and is one of 44 currently being worked on across the county.