Kitten gets head stuck in toy car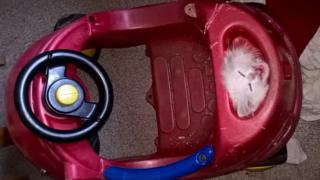 A three-month old kitten had to be rescued by firefighters after it got stuck in a toy car.
The furry explorer climbed inside the child's plaything and jammed its head through a small hole at the rear.
Despite its owners attempts to free it, the plastic proved too tough and the "unusual" emergency call-out was made.
Oxfordshire Fire and Rescue Service said the kitten was unharmed but its experience served as a warning against "diving into your presents too early".
Crews were called to a house in Stanford-in-the-Vale at about midday on Wednesday.
For more about rescued pets follow BBC England on Pinterest.