Brexit added to Oxford English Dictionary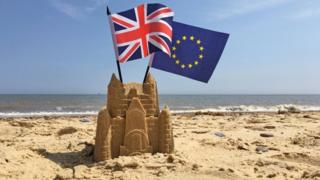 The word Brexit has been added to the Oxford English Dictionary (OED).
It defines Brexit as "the (proposed) withdrawal of the United Kingdom from the European Union, and the political process associated with it".
It continues: "Sometimes used specifically with reference to the referendum held in the UK on 23rd June 2016, in which a majority of voters favoured withdrawal from the EU."
The OED's senior editor said it became widely used with "impressive" speed.
Craig Leyland said economists started using the word in May 2012, influenced by "Grexit", which has also been added to the OED, and was used to describe the potential withdrawal of Greece from the Eurozone monetary union.
'Linguistic wellspring'
Brexit subsequently proved more popular than "Brixit", or the more accurate "UKexit".
He added: "Brexit's inclusion in the OED December update within five years of being coined is highly unusual... by late 2016 it was a global word.
"And not only did it spread, it reproduced... other words began to appear: Brexiteer, Brexiter, Brexit as a verb.
"The word became a linguistic wellspring, pouring out new items at speed, even if some - Bregret, Bremorse, Brexodus - seemed to be trying too hard, and none has yet shown sufficient durability to enter the OED."
Also added to the OED were:
Get your freak on - to "engage in sexual activity, especially of an unconventional or uninhibited nature" and "to dance, especially in an uninhibited, wild, or exuberant fashion"
Glam-ma - a glamorous grandmother
Verklempt - to be overwhelmed with emotion
The OED has the meaning, history, and pronunciation of almost 830,000 past and present words, senses, and compounds from across the English-speaking world.
It differs from the online Oxford dictionary, which has a lower threshold for accepting new entries to its list of words.