The Vale of White Horse approves plan for 13,000 new homes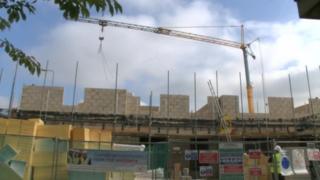 About 13,000 new homes could be built in Oxfordshire after councillors approved a plan.
Vale of White Horse District Council has approved its local plan which sets out where homes will be built in the area over the next 15 years.
The biggest new housing estate is planned for between Great Western Park in Didcot and Harwell where land has been earmarked for 2,500 homes.
Council leader Matthew Barber said he was "really pleased".
'Greater control'
He added: "I think most residents, parish councils and interest groups recognise this as a big step forward because it provides security for most of the district.
"We've balanced the needs of communities with the need of delivering infrastructure."
He said the decision gave the authority "much greater control" over future developments in the Vale.
A Planning Inspectorate report said the plan, which allocates sites for development up to 2031, met the "criteria for soundness" but recommended modifications, including removing sites south of East Hanney and northwest and east of Harwell Campus from the proposals.
It also said land to the north of Longworth should be considered for a storage water reservoir.
It followed a consultation in which the council received 178 responses.