Hundreds attend Horton campaigner George Parish's funeral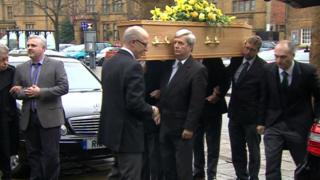 Hundreds of people have attended the funeral of a well-known hospital campaigner and former mayor.
George Parish, from Banbury in Oxfordshire, was chairman of the Keep the Horton General campaign.
He was instrumental in the campaign to stop the hospital being downgraded, a plan which was halted in 2008.
The 75-year-old, who was Banbury mayor from 1995-96, had Alzheimer's disease. He died last month.
'Eternally grateful'
The father-of-three was born in Grimsbury and married his wife Suzanne in 1964.
The pair ran The Vine Pub in Cornhill before Mr Parish began working at General Foods from 1974 onwards.
He was a lifelong Labour supporter and began campaigning to protect Banbury-based healthcare in 1992.
Friends, relatives and political dignitaries attended the service at St Mary's church in Banbury on Tuesday.
Current Banbury mayor Gordon Ross said: "I think the people of Banbury will be eternally grateful for the work he has done."
A well-wisher at the funeral said: "Rock and roll and a sense of humour is how I'll remember George."
The maternity unit at the hospital was temporarily redesignated a midwife-led unit in October because trust bosses said there was a shortage of doctors.
Keith Stangewood, a member of the Keep the Horton General campaign, said: "[George] has inspired us and will inspire us in the future. If he was alive today he would be furious with what [Oxford University] Hospital Trust has done and we must fight and win in George's memory."
The downgrading is due to be reviewed in the next few weeks.