Santas run through Oxford for charity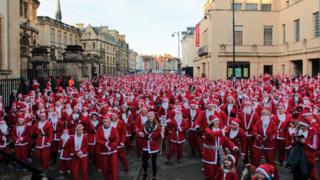 More than 2,000 Santas have raced through the historic streets of Oxford to raise money for charity.
Santas on the Run - one of the largest events of its kind in the UK - began in Broad Street at 09:00 GMT following a zumba warm up.
The two-mile sponsored run is celebrating its 10th anniversary and supports Helen & Douglas House hospice.
Participants included Helen Lord from Oxford, who has taken part in every event so far.
Other runners on the Santa list included members of Oxford City Rowing Club, Oxford University Officer Training Corps, and Oxford City Singers.
Shaun and Julie Forth ran in memory of their daughter Ruby, who went to the hospice for respite care and died in January 2013.
Ms Forth said: "Helen & Douglas House provided us with time and space.
"We were all nurtured and this allowed us precious time with our son, whilst relieving us of our full-time caring responsibilities for our daughter.
"Taking part in the race is our way of saying 'thank you'."