Oxfordshire County Council on 'solid financial footing' amid proposed cuts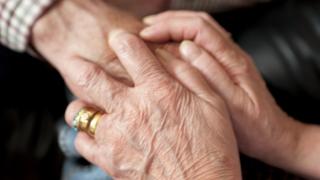 Oxfordshire County Council has claimed it is on "solid financial footing" as it looks to cut £7m of its services, compared to £50m last year.
Proposals include closing day care centres for the elderly and people with learning disabilities, stopping some carer grants and reducing agency staff.
It will bring the total amount of savings between 2010 and 2020 to £377m.
But Penny Thewlis from Age UK Oxfordshire said carers had already been hit hard by cuts.
Ian Hudspeth, leader of Oxfordshire County Council, said this year's smaller figure was down to "early and difficult decisions" taken over the past 10 years.
"It's given us a bit of a platform to give more longer-term thinking to where we'll be, and where we can reduce back office [jobs] rather than services, but obviously with those sorts of figures it does change services."
He added: "It's about being realistic with the budget we currently have."
---
Analysis - Bethan Phillips, BBC Oxford political reporter
Is the pain of making endless cuts finally over for Oxfordshire County Council? Have the most difficult decisions been made?
The cuts in this year's budget are nowhere near what the council faced last time around, when it decided to shut children's centres, cut mobile libraries, stop bus subsidies and slash support for the homeless.
But on the other hand, there's not much left to cut. A lot of the services left in the hands of the council, it has to provide by law.
A cynical person might say the council got big, unpopular cuts out of the way last year, to smooth the way for a budget ahead of elections in May. But council leader Ian Hudspeth has denied that's the case, saying they're accounting for pressures as they arise.
---
Ms Thewlis argued that many services on which carers depended on had been cut or reduced.
She added: "Carers are feeling that they're propping up the system, they're filling the gaps that are being left.
"Around 80% say their caring has a negative impact on their health so any cuts which worsen that position are of deep concern."
Lawrie Stratford, the council's cabinet member for finance, said: "There is no denying that there has been an impact on services and service users since 2010 but the council is on a solid financial footing.
"We are now able to find new ways to ensure people and communities get the support they need rather than making short-term service cuts."
A final decision on the budget will be made in February.