Alice Byron: Leukaemia blogger given posthumous award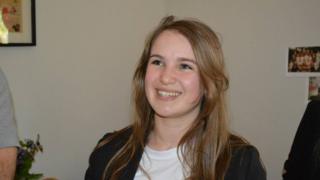 A leukaemia patient who blogged about her illness has posthumously been given a national award for her charity work.
Alice Byron, 21, died in July after being diagnosed with blood cancer in February and wrote about her experience to raise awareness of the need for donors.
The Anthony Nolan Trust recognised her "dedication and strength" at its national supporter awards.
With her family, she also raised £28,000 for leukaemia research.
'So strong'
Miss Byron's mother Sharon said: "She wanted to make awareness to put more people on the register.
"She needed a donor and there wasn't one immediately out there for her."
Miss Byron, from Launton in Oxfordshire, died three weeks after she received a stem cell transplant at the Churchill Hospital in Oxford.
Her father Jonathan described the Cardiff University English literature student as a "grammar perfectionist", and said they would often compete on the blog to find errors.
He added: "[The award] is bittersweet but it's fabulous that she's been recognised and we're here to carry on her work.
"We are, and always will be, immensely proud of her immeasurable strength, courage, and love for life."
Anthony Nolan chief executive Henny Braund said: "Her passion for our lifesaving work epitomised the ethos of our charity.
"I continue to find myself inspired and humbled by the dedication and strength of people like Alice."