Cherwell District Council sets up lottery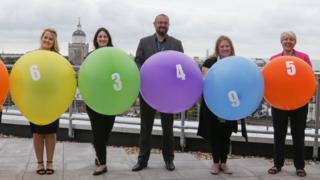 Cherwell District Council is setting up its own online lottery to raise money for charities and community groups.
It will cost £3,000 to establish and £1,000 to run, according to report for the council's executive, with the first draw planned for March.
Six local authorities run community lotteries and Cherwell District Council said the number is growing.
Portsmouth set one up in September 2016 and Aylesbury Vale District Council's raised £65,000 in 2015.
'Low risk'
Tickets will cost £1 each and the lottery will have a guaranteed jackpot of £20,000.
The council's report said: "Lotteries are the most common type of gambling activity across the world, and considered to be a 'low risk' form."
It added that the lottery will provide money to voluntary and community groups which benefit people in the Cherwell area.
Results from the Australian Super 66 Lotto will be used to provide the winning numbers.
Some 50% of the proceeds will go to nominated organisations, with 10% sent to the central fund which the council would allocate.
An external lottery manager would be brought in to run the Cherwell Lottery and share the risk operating it.