Home Office 'incompetent' over wife's visa appeal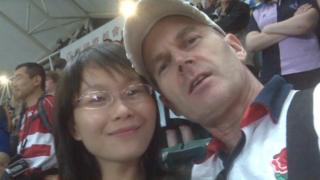 The Home Office has been accused of unacceptable incompetence after it refused to fast-track a visa appeal and sent a letter to the wrong MP.
Mary Zu, who is Chinese and married to UK citizen Steve Bearns, won an appeal to be granted a visa at a tribunal.
But the Home Office refused to allow her to re-enter the UK, because she had left the country.
It has now refused to fast-track an appeal against that decision.
Wantage Conservative MP Ed Vaizey has been assisting the couple, who have a three-year-old son, and said the information was sent to the wrong MP.
Mr Vaizey said: "They threw innumerable bureaucratic obstacles in their way; they turned down Mrs Bearns' right to live in the UK; when she won her appeal they ignored it.
"Now they have turned down a fast-track second appeal. To add insult to injury, this news was not passed to me but to a London Labour MP who kindly passed it on.
"This is unacceptable incompetence from a service that should now be hanging its head in shame."
Returned to China
Mrs Zu, who married her husband in China in 2010, attempted to get her family visa changed to a spouse visa when it expired in August 2015.
But the UK Visa and Immigrations office refused her application and she returned to China.
In July, Mrs Zu won an appeal to stay with her husband of six years in the UK, but a visa has not been granted.
In response the Home Office said she had been turned down for a British visa because she "left the country".
As a result the couple have been sharing their three-year-old son Ryan, who was born in the UK.
He now spends half the year in China and half the year in Wallingford, Oxfordshire.
In November, Mr Bearns said: "[My son's] a bit confused, I find him to be a little insecure.
"For six months he doesn't have a daddy, and for the last five months his mummy has just been a face in the computer."
What do you need to apply for a spousal visa?
To acquire a spouse visa, the non-British partner has to complete an English language test.
The British partner has to earn at least £18,600 a year to ensure they can support their non-British partner.
Lawyer Philip Turpin said: "I'm afraid this is not an unusual situation, it is now very hard for British citizens to have their [foreign] husbands and wives join them in the country."
The Home Office has said that scheduling of appeals and correspondence will have been made by an independent immigration tribunal, which falls under the Ministry of Justice's remit.