Bus services 'to reduce in New Year'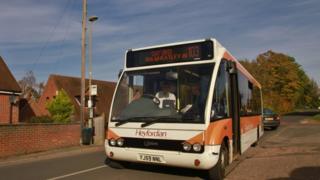 An Oxfordshire bus company says it will "need to make service reductions" in the New Year due to lack of council funding.
Thames Travel said it is impossible "to operate at a loss indefinitely".
It comes after Heyfordian cancelled three services which linked villages between Bicester and Oxford.
The company ran the services after Oxfordshire County Council cut £248,000 of funding in July, but has said the routes were no longer viable.
Initially council bus subsidies bolstered some bus routes that were strategically important for residents, but not particularly busy.
A spokesperson for Heyfordian said that "despite best efforts" to run some services without council subsidies, the 103, 108 and 118 services were no longer financially sustainable.
Stanton St John, four miles northeast of Oxford, is one of the villages that will no longer have a daily service as a result of the axing of certain routes.
Resident Frank Carter, who has lived in the village for 45 years, said: "When we first came there was a good bus service that has petered out, which is going to affect people who don't have a car."
Fellow resident Joyce Roden, who does not use a car, said: "I'm very dependent on the bus. The village has become a commuter village over the years and people just get in their cars and go, but a number of people have always been dependent on the bus.
"I'm a bit annoyed and disappointed, I'll now have to use a taxi, or shop online, a move house."
Thames Travel has not said said what services it may cut or reduce in the New Year.