Public asked to help solve RAF Bicester building mystery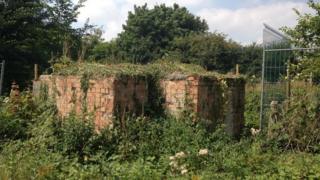 The public has been asked to help solve the mystery of a building discovered in thick undergrowth and trees at a former RAF Bomber Training Station.
The structure is described as "shelter-like" by Historic England and does not appear on any RAF records or maps.
The former RAF Bicester, now Bicester Heritage, was a World War Two RAF Bomber Training Station.
Clare Charlesworth, from Historic England, has appealed to people "to help solve the puzzle".
She said: "This irregularly shaped brick shelter is one of many original features still remaining on the former RAF Bicester site.
"It is special because the other brick shelters on the site do not have the same damp-proofing measures to keep them watertight.
"It's possible that it was partially buried and housed technical equipment, but we are appealing for information from the public to help us solve this puzzle.
"Once we know how it looked originally and what it was used for, we can determine the best way to repair and conserve it for the future."
The building, which covers about 16 sq m, and is now partly collapsed, does appear on aerial photos showing it had been built close to the fuel stores by December 1946.
Bicester Heritage contains a number of other protected buildings, including bomb stores and defensive structures such as pillboxes, shelters and trenches.
The site's marketing manager Philip White asked anyone who could help reveal the building's history reveal the building's history to get in contact with the site.
Historic England has given Bicester Heritage a grant of £39,407 to turn the former airfield into a business park dedicated to motoring and aviation.