HMP Bullingdon: Report details rise in violence after staff cuts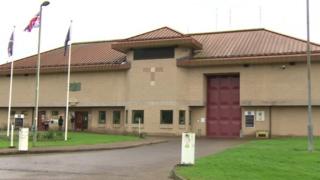 An increase in violence at an Oxfordshire prison has been caused by staff shortages, a report has said.
HMP Bullingdon's Independent Monitoring Board (IMB) said "indiscipline and violence have increased noticeably" since 2013 cutbacks.
It also said the "serious shortcomings" of contractor Carillion were having a substantial impact.
The Ministry of Justice said it was recruiting 2,500 extra officers across the prison system.
A Prison Service spokesman said: "HMP Bullingdon has taken a number of steps to address the concerns raised by the IMB, including addressing recruitment and safety concerns."
'Violence and indiscipline'
However, IMB chairman Paul Miller said it had become increasingly difficult to maintain staffing at levels "defined as acceptable by the Prison Service".
He added: "This difficulty has had a detrimental effect on the quantity and quality of the interactions of staff with individual prisoners, and may relate to the rise in violence and indiscipline."
In October the Ministry of Justice denied five serious assaults in one weekend were "covered up" at the jail near Bicester.
And last year inspectors found the use of the so-called legal high Spice inside the prison was leading to violence.
Dave Todd, of the Prison Officers Association (POA), said: "Unfortunately we're the forgotten service; it's a very difficult job that society doesn't understand.
"With reducing staff you [create] a toxic mix of events and [then] there is violence and disharmony in prisons."
Bicester MP Victoria Prentis said: "I have been involved in developing an ambitious programme of prison reform, which I hope will ease pressures on staff.
"I am in regular contact with the governor of HMP Bullingdon and have no doubt about his commitment to the prison and his officers."
The IMB report said that "officers continue to show professionalism and commitment" and "their skilled interactions with some of the most volatile prisoners have been observed on many occasions".