East Oxford Community Centre proposal backed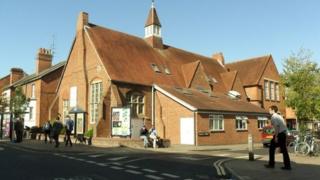 A proposal to redevelop a community centre using £2m raised by selling off other facilities has been supported by a majority of people consulted.
Oxford City Council produced options for refurbishing the East Oxford Community Centre site in Cowley Road.
They ranged from doing nothing to selling the current East Oxford Games Hall and Film Oxford sites.
It confirmed it was now "discussing the next steps" and preparing a report for its executive board.
If it goes ahead the dilapidated northern section of the centre could be sold off for housing.
New film and music studios would be situated in the revamped building.
'Constructive comments'
The city's Green Party said the revamp should not be at the expense of other services.
But 69 of the 115 people who provided feedback agreed or strongly agreed with the proposal.
The council called it a "higher than the average response rate" for its consultations and said the comments were "constructive and valuable".
Christine Simm, executive board member for culture and communities, said: "East Oxford Community Centre is an important community facility and we want the whole community to be involved in this project.
"As the project moves forward, users and residents will continue to be kept informed at every stage."
The report will go to the board in the New Year and it will then make a decision.