Oxford transport boss says buses should return to Queen Street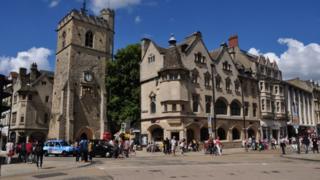 A transport boss is recommending Queen Street in Oxford be reopened to buses and taxis despite safety concerns.
The city centre road has been pedestrian only since June due to the Westgate Shopping Centre redevelopment.
The closure has been blamed for increasing pressure on other nearby roads.
But Oxfordshire County Council officers argue allowing vehicles to return could lead to an "unsafe situation" due to an increased number of pedestrians.
When the shopping centre is finished next year there are expected to be 11 million more people using it.
'Emergency withdrawal'
The councils officers had recommended the ban remain in place but cabinet member for transport David Nimmo Smith said the road should be reopened to buses for a trial period.
He said: "I would like to see Queen Street open to see what happens. We'll do a review after six months, unless there are issues that need to be dealt with, unless there are safety issues."
Phil Southall from Oxford Bus Company welcomed his suggestion and said pedestrians would not be at risk.
He said: "At the end of the day, if Queen Street does become unsafe we will withdraw the buses. We will co-operate in an emergency withdrawal."
The decision will now go to the council's executive board for final approval on 20 December.