Application for £60m Oxford shopping centre redevelopment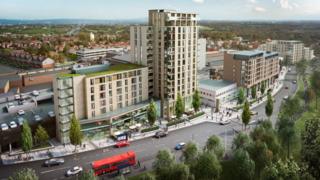 Plans have been submitted for a £60m redevelopment of part of a 50-year-old Oxford shopping centre.
They were drawn up by Templars Square owner NewRiver and include a hotel, new restaurant space, 200 apartments and upgraded car parking.
Centre manager Owen Acland said the plans were "hugely exciting" and would keep the existing shops.
The planning application will go on show inside the centre towards the end of January.
A NewRiver spokesman said the scheme aims to create 57 new jobs and 200 new construction jobs.
Allan Lockhart, property director of NewRiver, said: "The case for regeneration is absolutely clear and this is an excellent opportunity to reinvigorate the heart of the town centre."
The Oxford Design Review Panel, which had input into the designs, said "the improvements of the public space are commendable".