Oxfordshire expects £15m of £382m bid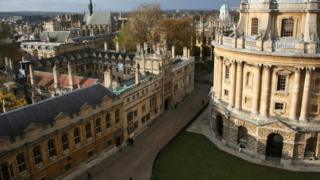 New roads and a railway station revamp in Oxfordshire may be scrapped after sources said 4% of the £382m requested funding would be granted by government.
Oxford City Council leader Bob Price said only £15m of the bid, which would have paid for projects like a £30m road over Didcot railway, had been given.
The bid was submitted by the Local Enterprise Partnership (OxLEP), tasked with boosting the county's economy.
Mr Price said the LEP was still negotiating with the government.
The bid by OxLEP included an overhaul of the Lodge Hill interchange on the A34, expanding Culham Railway Station and a £12m redevelopment of Oxford Railway Station.
Projects, like a £30m road over the Didcot railway, could be scrapped.
'Foolhardy not to give more'
Mr Price - who is one of the OxLEP board members - said the group was still negotiating with the government but was expecting "nothing like £382m".
Chancellor Philip Hammond announced the government would grant £492m to LEPs in London and the South East in his Autumn Statement on Wednesday.
Awards to individual counties will be announced in the coming months.
Chancellor Philip Hammond's Autumn Statement is the first major economic statement since the Brexit vote, and he is expected to unveil forecasts which are expected to show higher borrowing and slower growth.
Mr Price said: "We were given the indicative allocation of £15m so we went back and pointed out that county's economic prospects are so good that it would be foolhardy of the government not to give us a lot more than that to complete.
"I think [we're not getting the funding] because the government only has a certain amount of money to put into infrastructure and there is a strong suggestion that they're going to put the money into areas that have elected mayors."
Analysis: Bethan Phillips, BBC Oxford political reporter
"We can't say the projects won't be going ahead. I think there will be a lot of work done to try and find the money from somewhere else.
"But the fact is the government's got bids like this coming at it from all over the country - and a limited pot of money.
"It's not all bad news for Oxfordshire though - the Chancellor has announced £27m for a new expressway connecting Oxford, Milton Keynes and Cambridge, and £110m for the East West Rail link between the two university cities."