Oxford's Lord Mayor blames admin error for council tax pay fail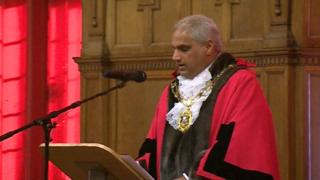 Oxford's Lord Mayor has blamed an "admin error" for his failure to pay £216.29 in council tax.
Mohammed Altaf-Khan was one of four Oxfordshire councillors to be summonsed during the 2015-16 tax year according to Freedom of Information requests collected by Private Eye.
He said the tax was for a property he lets and the bill was overlooked after tenants moved out.
All four councillors have now paid their bills.
The others were Colin Dingwall and Peter Kellend from West Oxfordshire District Council and Nicholas Turner from Cherwell District Council.
Oxford City Council said Mr Altaf-Khan was late paying £216.29 despite being sent the correct demand notice and a reminder letter.
'No special treatment'
Mr Altaf-Kahn said: "It was an admin error where you don't receive the reminder or notice to pay.
"By the time I received the summons I had paid. I didn't go to court or anything."
He added: "I think the council tax system should have text messages and emails, which are quicker and electronic."
Mr Dingwall was late paying £3,316.46, Mr Kelland was £900 in arrears and Mr Turner was late paying £412.85.
Mr Turner said: "I probably should've paid it earlier. I was waiting for the whole thing to go through so all the paperwork could be done at once. I was trying to keep it simple."
All of them have now paid their council tax bills and no further action is being taken.
Mr Dingwall and Mr Kelland were both contacted for a comment.
West Oxfordshire District Council resources director Frank Wilson said councillors "are not treated differently to anyone else".