Shaken baby evidence doctor Waney Squier 'traumatised'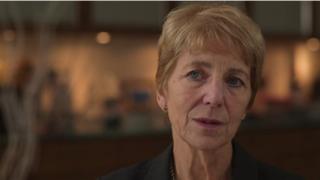 A doctor reinstated on the medical register after being struck off for evidence she gave in "shaken baby" cases has described her experience as "extremely traumatising".
Dr Waney Squier was erased from the register after a medical tribunal in Manchester concluded she had been dishonest, dogmatic, and misleading.
On appeal, the High Court ruled there were flaws in the tribunal's findings.
The GMC said the ruling was clear Dr Squier "had acted irresponsibly".
Dr Squier said the tribunal's conclusions "felt absolutely terrible".
The paediatric neuropathologist, who had acted as an expert witness in six court cases including the deaths of four babies and a 19-month-old child, was also suspended from her post at Oxford's John Radcliffe Hospital.
She said: "It was extraordinarily tough, very difficult, probably the worst sort of abuse I've been through in my life.
"I was at my lowest when I came back to Oxford from the Manchester hearing with all of those words ringing in my ears."
Dr Squier disputed the existence of brain trauma caused by violently shaking an infant and has argued that she was scapegoated for challenging the mainstream view.
In the new ruling the judge, Mr Justice Mitting, concluded that Dr Squier had gone beyond her expertise, but said her views were honestly held.
Dr Squier said she coped by "just trying to get out of Oxford" and being distracted by friends "from the real issues".
"In September I had to come back to Oxford in preparation for the hearing," she said.
"That was really very difficult having to be here, I found the appeal extremely traumatising."
Dr Squier said she was "very much looking forward" to working at the John Radcliffe again but no date had yet been set for her return.
In a statement, the General Medical Council said the judge had "confirmed that this case was not about scientific debate and the rights and wrongs of the scientific evidence, but the manner in which Dr Squier gave evidence".
"The ruling makes clear that she acted irresponsibly in her role as an expert witness on several occasions, acted beyond her expertise and lacked objectivity, and sought to cherry-pick research which it was clear did not support her opinions," a spokesman said.
He added that conditions would remain on Dr Squier's registration for at least three years to prevent her giving expert evidence.