Man beaten with own walking stick overwhelmed by donations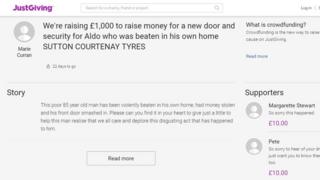 A pensioner who was beaten with his own walking stick by a robber has been overwhelmed by online donations from strangers.
Aldo Capriolo, 85, was attacked in his home in Sutton Courtenay by a man demanding cash on 7 November.
Now an online campaign to raise money to pay for a new door and windows for his property has raised nearly £1,700, almost twice its original target.
His next of kin said the generosity has been "absolutely incredible".
'Massive gash to head'
Caron Bradley, who cared for the pensioner's late wife Bridget, said she was "gobsmacked" when she was called by police after the attack.
Ms Bradley, who set up the fundraising page, added: "When I saw him I was devastated, they were still assessing him and he was covered in blood.
"He had a massive gash to his head and to his elbow when he tried to defend the blows, they thought at one point he had broken his leg."
He was taken to hospital after the attack but was discharged.
Ms Bradley said she has also received offers from home alarm servicemen and door installation experts to secure the property.
She said: "It's been absolutely incredible, I went through some of the online messages [with him] and he was wondering why people were doing this for [him].
"He said 'what did I do to deserve this?' He was so humbled."
Police are still searching for Mr Capriolo's attacker who is described as black, aged about 30 and about 5ft 11in (180cm).