Oxfordshire school donated scale T. rex skull model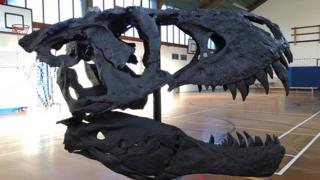 A model of one of the world's best-preserved Tyrannosaurus rex skulls has been donated to an Oxfordshire school.
The skull has been unveiled at Cranford House in Moulsford and was previously on display at the Museum Für Naturkunde in Berlin.
It was created because the head of the original 65 million-year-old specimen, called Tristan Otto, was too heavy.
The privately-owned fossil is not currently on public display and was found in Montana in 2010.
It is one of only a few skulls from the Upper Cretaceous period that still has a complete set of teeth.
It will form the centre of a week of dinosaur-themed lessons and projects for pupils.
Head teacher James Raymond said the size of the skull was "phenomenal" and it had been kept secret until the unveiling at 09:00 GMT.
He added: "We are extremely grateful to a generous benefactor who donated it to us after a four-year restoration programme.
"Most children only get to experience a dinosaur either on screen or through a visit to the museum but our pupils will have it on permanent display throughout the year."
To mark the occasion Cranford House will be opening its doors to local children and families on Saturday from 10:00 GMT to 12:00 GMT.