Horse stuck in mud rescued from River Windrush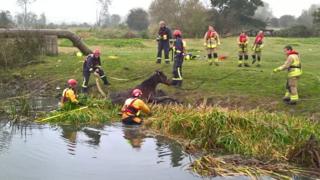 A horse which was trapped in mud on a riverbank had to be rescued by firefighters.
The horse got stuck in the mud near the River Windrush, close to Willow Farm in Witney, Oxfordshire, at about 08:47 BST on Saturday.
Up to 10 firefighters helped with the rescue operation using specialist animal rescue equipment.
Oxfordshire Fire and Rescue said the horse was freed without injury with the assistance of a vet and the owner.
For more stories of pets and animals being rescued follow us on Pinterest