Cropredy Marina extension plans approved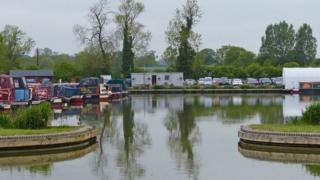 Plans to expand a marina in north Oxfordshire have been approved.
Cropredy Marina opened in 2013 and has a waiting list for its 249 mooring spaces.
The new development was given the go ahead by Cherwell District Council and will include 100 extra moorings, a new car park, and swing bridge.
Cropredy Parish Council has raised concerns about light pollution and people using the site for unauthorised residential use.
Claydon with Clattercote Parish Council opposed the proposals, saying the extension would "pose additional pressure on local services [and] the problems of light and permanent residency will only increase".
However, the district council decided a larger marina would provide "economic benefit, resulting in a small number of additional jobs, and the increase in temporary visitors using the facility may assist in supporting village services".
It concluded that it would not "unduly harm the visual amenities of the locality, the historical importance of the canal conservation area and its setting".
It added: "Subject to a condition controlling the detail of any external lighting, the proposal would not cause undue harm to the residential amenity of neighbouring occupiers and would not cause harm to protected species."
Those found to be living permanently at the site will be required to leave, it said.
The Environment Agency said it had no objections if works were carried out to reduce the risk of floods.