Village green status of Faringdon's Humpty Hill upheld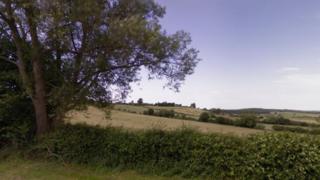 A decision to register a meadow as a village green where people can "hang out" and "chill" has been upheld by the High Court.
Residents have campaigned for four years to preserve the 14-acre site at Humpty Hill, Faringdon, Oxfordshire, following a proposed 100-home development.
The county council registered the land as a village green in December.
Mrs Justice Patterson has now dismissed a challenge to that decision.
The challenge was brought by landowners Charles Allaway and Rosemary Pollock, along with Gladman Developments.
'Egg rolling'
Planning inspector Charles Mynors held a public inquiry in March 2015 and recommended the field should receive village green status.
He decided the field qualified for registration under the Commons Act 2006 because of "ample evidence" that it had been used for at least 20 years for sports and other pastimes.
The inspector said activities included walking, football, bird-watching, and generally "hanging out", "lounging about" or "chilling".
There had also been less frequently staged activities, including blackberrying, sledging and egg rolling.
The objectors argued there was a lack of evidence that the field was being used by enough people to justify village green status.