Cornbury Music Festival set to end in 2017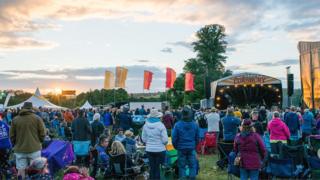 The organiser of a major musical festival in Oxfordshire has announced next year's event will be the last.
Cornbury Music Festival began in 2004 and has seen appearances from Amy Winehouse, Blondie, Elvis Costello and Van Morrison.
Festival director Hugh Phillimore said: "We've had a really, really lovely time but it does overwhelm my life and has done for 13 years."
The final event takes place next July.
For more stories about England's events follow our Pinterest board
Mr Phillimore said: "I think it's probably about time we had a huge party at the end, and I was allowed to have a bit of a quieter time... I just won't be taking a huge risk in the middle of an Oxfordshire field.
"Everyone thinks there's a lot of money in festivals but actually there isn't.
"It's a very difficult show to do really…. a real juggling act."
Prime minister 'incognito'
The festival was originally based in Cornbury Park before moving to Great Tew in 2011.
The original site now hosts the Wilderness Festival.
Other previous acts include Tom Jones, Robert Plant, Bryan Ferry, The Pretenders, Crowded House, and Hugh Laurie.
When asked for his memorable moments, Mr Phillimore listed a bear hug from Joe Cocker, and Amy Winehouse being "very lovely and absolutely gorgeous, before bad boys and other things messed up her life".
But he admitted Paul Simon was "grumpy".
His highlight was the the 10th anniversary event, showcasing Keane, Van Morrison and Squeeze, "with the prime minister [David Cameron] sitting on the side of the stage incognito an amusing moment".