Witney stream water quality improves after chemical leak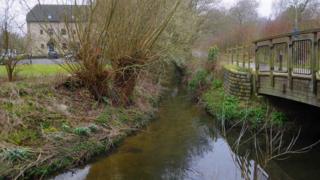 Water quality has improved in a stream where 1,700 fish were killed in a suspected chemical leak, the Environment Agency (EA) has said.
Thames Water said "high ammonia levels" were found in the water near Witney Lake last week due to discharges from a nearby sewage treatment works.
The EA said the sewage site was now working normally and oxygen levels in the river had returned to normal.
It is carrying out an investigation into who was responsible.
An EA spokeswoman said: "Water quality is recovering in the Colwell Brook and Emma's Dyke following a pollution incident at Witney sewage treatment works last week.
"While this incident had a huge impact on fish, levels of oxygen vital for the health of the river have returned to what we would expect for this time of year.
"We will continue to monitor the recovery of the river."
Witney Lake was not affected by the leak, as it is not fed by the same watercourses.