HMP Bullingdon: Prison denies covering up five serious assaults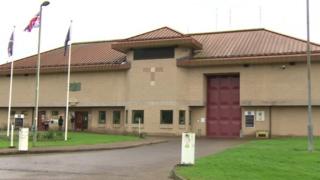 The Ministry of Justice has denied five serious assaults in one weekend were "covered up" at an Oxfordshire prison.
The Prison Officers Association said it was "extremely concerned" the incidents at HMP Bullingdon had not been reported in line with national guidelines.
It added that three drones found at Featherstone Prison in Wolverhampton were also not reported properly.
The Ministry of Justice said: "Any allegation that incidents are being covered up is completely untrue."
A spokesperson for the government department initially said the five assaults at HMP Bullingdon had not taken place.
'Not acceptable'
But the BBC has obtained a letter written by Paul Baker, the National Offender Management Service's deputy director of custody for the Thames Valley, in which he confirms they happened but were not reported.
In it he wrote: "This is not acceptable and I have told the establishment this."
He added that the prison's deputy governor was making daily checks to ensure the proper procedures were being followed.
Glyn Travis, Prison Officers Association assistant general secretary, said his organisation was "extremely concerned" that incidents were not being reported properly at the prison, which is in the village of Arncott near Bicester.
He said: "The situation at Bullingdon demonstrates that underreporting is a real problem and the unprecedented rise in violence may be significantly worse than what is currently being reported."
He added that staff at Featherstone Prison also voiced concern that three drones, discovered in a single week, had not been recorded. The remote-controlled aircraft have been used to smuggle items into prisons.
Last year inspectors found the use of the so-called legal high Spice inside HMP Bullingdon, near Bicester, was leading to violence.